Angola is a South African country with varied terrain that includes tropical beaches on the Atlantic. It has approximately 33 million inhabitants.
It is a country where cultivation is especially recent. The zones or areas destined to olive grove cultivation are located practically all over the south of the country: Móxico, Kuando, Kubango, Huambo, Huila, Bié and Namibe.
It has 7,000 hectares of olive groves and is the 47th largest producer of olive oil in the country.  Olive oil production accounts for 92.4% and table olives for 7.6%. Of all its crops, 68.1% belong to traditional cultivation, followed by intensive cultivation (21.2%) and super-intensive cultivation (10.7%). The 60% belongs to rainfed cultivation and the remaining 40% to irrigated cultivation.
The main varieties of olive groves found in this country are: Arbequina, Arbosana, Koroneiki, Mission, Kalamata, Manzanilla, Coratina and Leccino.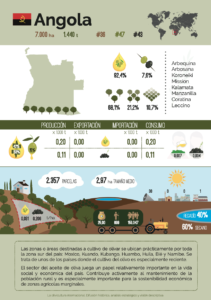 It produces around 200 tons of olive oil and 110 tons of table olives, of which both oil and olives are destined for domestic consumption. Of the total oil production, 42% is considered high quality oil (virgin or extra virgin) and the remaining 58% falls into the category of low quality oil (lampante).
Angola has about 2,357 plots of land, each with an average size of 2.97 ha. Each of these hectares yields 0.0031 tons of olive oil and 0.206 tons of table olives.
The turnover generated by the olive oil sector is 25 million euros, as well as 159,347 annual working days in the olive oil sector and related industries. It has 30 oil mills and 1 bottling plant.
Of the total vegetable and animal fats, this country allocates 0.1% to olive oil consumption.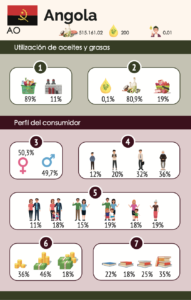 According to the profile of the consumer, women consume more olive oil than men, consuming 50.3% while men consume 49.7% respectively. In terms of age, the highest consumption of oil is among those over 65 years of age, 36%, followed by those between 34 and 49 years of age.
According to the family structure, olive oil consumption is higher in those middle-aged families with children, as well as in those people who are single or widowed, both at 19%.
The consumption of olive oil according to income, the consumption is higher in those people who have a medium-low income level. In terms of academic education, people with a higher level of education consume more olive oil (35%), followed by those with secondary education (25%).
According to the different categories of olive oil, in Angola, the consumption of olive oil predominates (40%), followed by the consumption of extra virgin olive oil (31%). The packaging in which olive oil is most consumed is PET (70%), followed by glass (28%).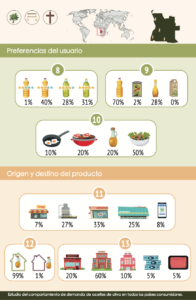 Olive oil is mainly used by itself, without being cooked. This stands at 50% while olive oil is cooked 20% of the time.
The establishment where olive oil is purchased in this country is in supermarkets (35%), followed by oil mills, bottling plants, bars or other points of sale (27%).
The highest consumption of olive oil is at home (99%). Outside the home, 1% is consumed. Outside the home, the highest consumption is in collectivities (60%), followed by bars and restaurants (20%).