One of its great attractions of Canada is that it is called one of the best places in the world to observe northern lights, besides being called the polar bear capital of the world. But one cannot forget one of its most notable characteristics – friendliness. The Canucks lead all international rankings of friendliness.
Canada is a country located in the upper part of North America, bordering the Pacific Ocean to the west and the Atlantic Ocean to the east.  Its territory covers 9.9 million square kilometers. The country has 36 million inhabitants that are concentrated along the border with the United States. It has 10 provinces, and its largest city is Toronto.
Canada is both an olive oil producing and consuming country. Most of the oils consumed were domestically produced vegetable oils, the large increase in olive oil consumption is recent. Olive oil consumption is on the rise as consumers are seeking a healthier diet.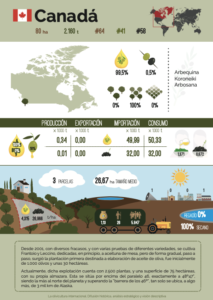 It currently has 80 hectares of olive groves. It is ranked sixty-fourth in the world in terms of cultivated area, forty-first in olive oil production and fifty-eighth in table olive production. Of the total production, 99.5% corresponds to olive oil and 0.5% to table olives.
With respect to cultivation, high-density cultivation predominates (100%), and of the total cultivation, the whole belongs to rainfed farming.
The company produces 340 tons of olive oil and does not sell to other countries. Of the total oil produced, 100% is of superior quality (virgin or extra virgin). In addition, it produces 10 tons of table olives, all for its own use, as it does not sell to other countries.
Canada has 3 olive grove plots, which have an average size of 26.67 hectares. Per hectare it produces 4,315 tons of oil per hectare, as well as 26,966 tons of table olives per hectare.
It has 1 olive mill and 1 oil press. The turnover of the olive oil sector in this country is 1.13 million Euros, which translates into more than 5 thousand real working days.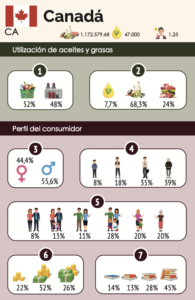 Of the total animal and vegetable fats consumed in Canada, olive oil consumption accounts for 7.7%, or 47,000 tons of olive oil.
As for the consumer profile, it is consumed by men more than women, 55.6% and 44.4%, respectively. With respect to age, the older the population is, the higher the percentage of olive oil consumers, predominantly those over 65 years of age (39%).
In terms of family structure, consumption is higher in middle-aged families with children (28%), followed by single or widowed people, and single-parent families with children (20%). Those who have a medium-low income level consume more olive oil than those who have a low income. Consumption among people with a medium income is 52%, high income 26% and low income 22%.
With respect to the percentage of olive oil consumption according to the level of academic education, it is significantly noticeable that those people who have higher education (university), consume olive oil in greater proportion with respect to those who have practically no studies. Being 45% with university education and 13% with primary education.
According to the type of olive oil, 50% consume extra virgin olive oil, followed by olive oil (37%). In terms of packaging, they consume more olive oil in PET containers (59%), followed by glass containers (38%). The use of olive oil in Canada is mostly in raw form (70%), in cooking (24%) and where it is least used is for grilling (5%) and frying (1%).
In terms of the establishment where the oil is purchased, supermarkets predominate (33%), followed by hypermarkets (25%).
In addition, 99% of the people who consume olive oil do so within their own homes, the remaining 1% outside the home. Outside the home, the establishments where this consumption predominates are bars and restaurants (30%), and collectivities (30%).