Namibia is a country in southwestern Africa. It is characterized by the Namib Desert along its coastline on the Atlantic Ocean. The country has a diverse fauna, including a significant cheetah population. It has an area of about 824,290 km2 and a population of 2,504,000 people.
Namibia is one of the countries that has been integrated in the mid-twentieth century to the cultivation of olive trees, specifically in the regions of Otjozondjupa and Erongo.
In the Naukluft Zebra Mountains National Park, a mountainous area along with the Namib Desert, we can find the famous wild olive trees, within the route «The Olive Trail." The Olive Trail is an 8.0 kilometer circular trail with light traffic located near Rietoog, Hardap, Namibia.
Of the 66 olive oil producing countries, Namibia ranks 50th in olive oil production and 46th in table olive production.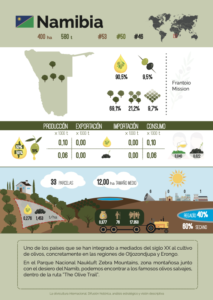 It has about 400 hectares of olive groves, of which traditional olive groves predominate (69.1%) followed by intensive (21.2%) and super-intensive (9.7%). 60% belongs to rainfed plantations and the remaining 40% to irrigated plantations.
The predominant olive varieties in this region are Frantoio and Mission.
Around 1000 tons of olive oil and 600 tons of table olives are produced. This country has a peculiarity, which is that is that they consume exclusively what they produce themselves, as they do not export or import.
Of the percentage of olive oil production, 50% is of high quality, that is, they produce virgin or extra virgin olive oil, and the remaining 50% is a lower quality oil, such as lampante olive oil.
It has about 33 plots, of which the average size is around 12 hectares. The average productivity of these plots is 0.547 t/ha of olive oil and 1.453 t/ha of table olives.
This country has a turnover of around 377,000 euros and around 17,350 annual working days in the olive oil and related industries. In addition, it has 6 oil mills and 1 oil press. It does not have any olive oil mills or refineries.
Around 0.04 liters of olive oil are consumed per person per year and 0.022 kilograms of table olives per person. Of the total consumption of vegetable and animal fats, only 100 tons correspond to olive oil consumption, which translates into 0.2% of the total consumption of vegetable and animal fats.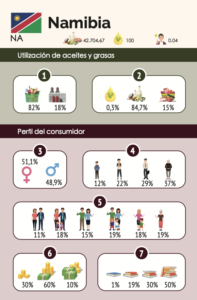 According to the consumer profile, it can be observed that a higher percentage of women than men consume olive oil, 51.1% and 48.9% respectively. The highest proportion of olive oil consumption according to age range is found among people over 65 years of age, 37%, followed by people between 50 and 65 years of age.
The percentage of olive oil consumption according to the family structure predominates in single or widowed people, as well as in young families with children, with 19% consumption each of them. This is followed by single-parent families with children and middle-aged families with children, whose percentage oscillates at 18%. The family structure where olive oil consumption is lowest is in young families without children.
With respect to the consumption of olive oil according to the level of income, those with a medium income predominate, with a percentage of 60%. Furthermore, according to the level of academic education, there is a higher consumption in those people who have higher education, in this case, university education, a percentage that stands at 50%.
Olive oil consumers in Namibia prefer a higher quality olive oil, such as extra virgin olive oil (48%), although they also consume olive oil (39%) or virgin olive oil (12%) to a lesser extent.
Of the percentage of consumption according to the type of container, more than half of the people consume olive oil in PET containers, 70%, followed by glass containers (28%).
According to the intended use of olive oil, a higher percentage of people use it raw as a condiment (39%). Olive oil is used the least for frying.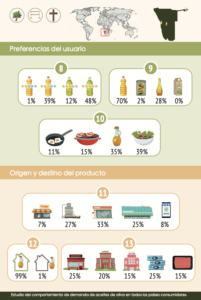 The most common places where Namibian consumers buy olive oil are supermarkets, followed by oil mills, bottling plants and hypermarkets. The purchase of olive oil through internet shopping is becoming increasingly important.
99% of the people who consume olive oil do so inside their homes, the remaining 1% consume it outside the home. The greatest consumption outside the home predominates in bars and restaurants (25%), the canning industry (25%) as well as incollectivities (20%).