India is moving to the world stage because it and China are helping Russia to circumvent sanctions by buying oil at bargain prices. Russia has found new customers, including India, for its powerful oil and gas industry that are helping it to mitigate the heavy economic sanctions imposed by the West.
After the invasion of Ukraine, Russia replaced Saudi Arabia as the main supplier of oil to China.
It turned to India before the invasion, 1% of Russian oil exports were destined for the Asian giant, while in May, they rose to 18%. This has meant that, although Russia has seen a drop in its oil and gas export revenues, energy sector revenues are still sufficient to finance, among other things, the military effort represented by the invasion of Ukraine.
India, located in South Asia, has an area of 3,287,259 square kilometers, making it one of the largest countries in the world. India, with a population of 1,380,004,385 people, is one of the most populated countries in the world with 420 inhabitants per square kilometer. Its capital is New Delhi and its currency is the Indian Rupee. In 1990 the Indian market adopted olive oil as a food due to its healthy properties and began to grow slowly.
India is both a consumer and producer of oil, ranking fourth in vegetable oil consumption in the world, and importing around 5.4 million tons.
It currently has 20,000 hectares of olive groves. It ranks 30th in the world in terms of cultivated area, 37th in olive oil production and 36th in table olive production. Of the total production, 91% corresponds to olive oil and 9% to table olives.
With respect to cultivation, intensive cultivation predominates very significantly (100%), while traditional and super-intensive cultivation account for 0%. Of the total cultivation, all (100%) is irrigated.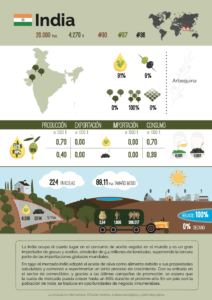 It produces 700 tons of olive oil that is not marketed to other countries. Of the total oil produced, 52% belongs to a higher quality oil (virgin or extra virgin), the remaining 48% belongs to a lower quality oil such as lampante olive oil. In addition, it produces 400 tons of table olives which are also not marketed to other countries.
India has 224 olive grove plots, which have an average size of 89.11 hectares. Per hectare, it produces 0.038 tons of oil per hectare, as well as 0.214 tons of table olives per hectare.
There are 9 oil mills and 1 bottling plant. The turnover of the olive oil sector in this country is 2.64 million euros, which translates into 366 million real days.
About 0.01 kg of olive oil is consumed per person. The total consumption of olive oil stands at 0.01% with respect to the other types of oils present on the market in India.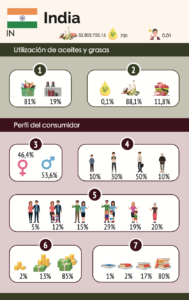 As for the consumption of olive oil according to sex, 46.4% of women and 53.6% of men consume olive oil. If we distinguish the consumption of olive oil according to age, the group between 50 and 65 years of age predominates with 50%. As for the family structure, middle-aged families with children predominate, with a consumption of 29%, followed by singles or widowers with 20%.
With respect to purchasing power, those with a high income level have a higher consumption of olive oil (85%). With respect to educational level, those individuals with a higher level of education (university) have a higher consumption of olive oil (80%). However, those with no education, their consumption does not amount to more than 1%. In general, olive oil continues to be unknown to the lower-medium consumer, although its qualities are appreciated by more educated consumers.
Of the different varieties of olive oil, the most predominant is olive oil with 40%, followed by virgin olive oil with 30%.
According to the type of container, consumption is higher in PET containers (80%) and in cans (15%). The main use for which olive oil is intended is raw, i.e. for seasoning with 90%, to a lesser extent than the previous one the use of olive oil for cooking and grilling with 5%. While they do not use anything for frying.
The main establishments where people in India buy olive oil are hypermarkets (60%), followed by supermarkets (20%), the Internet (12%), and almost nothing in traditional stores (8%).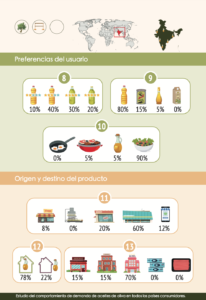 The majority of users in this country consume olive oil in their own homes (78%), and 22% do so outside their domestic environment. Outside the home, the establishments where olive oil is most consumed are hotels (70%), followed by bars and restaurants (15%), with the same percentage in public establishments.