Georgia is located between Europe and Asia. It has approximately 3.714 million inhabitants. Agriculture is the mainstay of the economy. It is a typically agrarian country with a long winemaking tradition. The agrarian reform was well directed by the government, which contributed to some degree to stability in the countryside. Olive groves have started to take off with about 7,000 trees. Most of the plantations are allocated in the Kakheti region of Georgia.
In the past, this was a country that was climatically suitable for olive growing, even if it was only traditionally and sporadically cultivated. At the hands of various Israeli companies attracted by the price of the land, its planting system has been modernized. In 2014, it decided to enter into olive growing after doing a long research that indicated that the country would be a good environment for olive growing. The trees that were grown in Tattnall County yielded their first crop in the fall of 2019. They bottled the oil and submitted it to the World Olive Oil Competition, one of the most important competitions. Georgia's extra virgin oil won an award taking its place among the best oils in the world.
It has 2,500 hectares of production, as well as a gross table olive production of 6,120 tons. It ranks 42nd in terms of cultivated area and 34th in terms of olive oil production.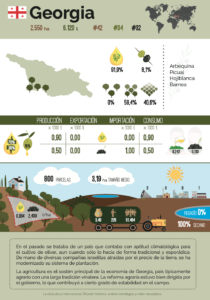 Olive oil production accounts for 91.9% and table olives for 8.1%.
Its crops are exclusively modern, with a predominance of intensive olive grove cultivation with 59.4% and super-intensive cultivation with 40.6%. Intensive olive grove cultivation represents about 1,500 ha. They only use rainfed water regimes.
Of the total olive oil produced, 70% is considered high quality olive oil (virgin or extra virgin). The production of extra virgin olive oil in the 2019-2020 campaign was 45 tons.
Imports are exclusively of table olives, as it imports around 1,000 tons of table olives. However, it exports neither table olives or olive oil.
The number of farms it owns is about 40, which translates into 800 olive grove plots, of which the average size is 3.19 hectares per plot. The yield of each hectare is 2.4 tons of table olives and 0.384 tons of olive oil, with an average yield of 16%. The main varieties are Arbequina, Picual, Hojiblanca and Barnea.
At present, the business figures related to the olive oil sector are around 3.40 million euros, it contributes 225 real working days, which translates into 51,404 permanent jobs in the olive oil sector and related industries. It has 2 olive oil mills and 1 oil mill in the country.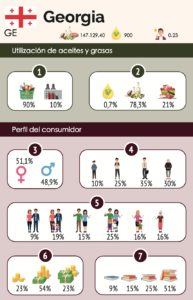 Of the total animal and vegetable fats consumed in the country, only 215 tons correspond to the consumption of olive oil, which translates into 0.7%. Where 90% is used for food consumption, and the remaining as industrial use.
As for the consumer profile, it should be noted that women consume more olive oil than men, 51.1% and 48.8% respectively. The age range of population where they consume a greater amount of olive oil is in the population between 34 and 49 years old (35%), followed by those over 65 years old (30%).
With respect to the consumption of olive oil according to family structure, it has a greater significant importance in middle-aged families with children (25%), followed by young families with children (19%).
According to income level, people with a medium-high income consume more olive oil. The same occurs with the consumption of oils according to the level of academic education. The higher the level of education among Georgian citizens, the higher the consumption of olive oil, so that people with a university education consume 51% of olive oil, followed by people with secondary education (25%).
Among the different existing categories of olive oil, the consumption of olive oil predominates (45%), followed by extra virgin olive oil (39%). In addition, among the different types of packaging, olive oil in PET is consumed in a much higher percentage (75%), followed by glass (23%). More than half of the country's population uses crude olive oil for seasoning (63%).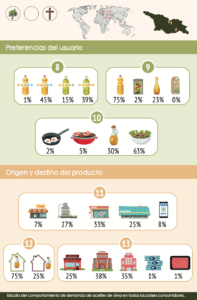 The establishments where individuals usually buy olive oil are distributed almost equally, such as supermarkets (33%), oil mills, bars and other points of sale (27%), as well as hypermarkets (25%). It is a country that uses the purchase of olive oil through the Internet, standing at 8%.
75% of the population uses olive oil at home, however, the remaining 25% uses it outside the home. Outside the home, the most important ones are the collectivities (38%), hotels (35%), as well as bars and restaurants (25%).