The tragic news of the death of its sovereign, Queen Elizabeth II, leaves a country of uncertainty and sadness. A monarchy marked by longevity, an important era for the country where they have overcome numerous historical events. It leaves a new era marked by the flying of flags at half-mast.
The United Kingdom, made up of England, Scotland, Wales and Northern Ireland, is a highly populated country with a population density of 275 inhabitants per square kilometer. This country is one of the most powerful economies in the world, its population has a good standard of living.
The United Kingdom is both a producer and consumer of olive oil. The commitment and interest in this sector is gradually manifesting itself, a sector that is in development. Innovation and the launching of new references are a key element in the olive oil market, as its consumers are characterized by looking for innovation and differentiation in the product
It currently has 6 hectares of olive groves. It ranks sixty-fifth in the world in terms of cultivated area, in the same position in olive oil production and in table olive production. Of the total production, 100% corresponds to olive oil and none to table olives.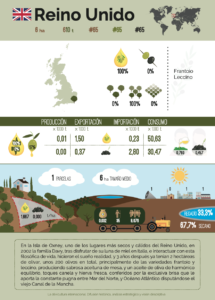 With respect to cultivation, intensive cultivation is totally predominant. Of the total crop, 67.7% is rainfed and the remaining 33.3% is irrigated.
It produces 0.01 tons of olive oil, of which 1.5 tons is marketed to other countries. The total oil produced (100%) belongs to a superior quality oil (virgin or extra virgin). In addition, 0.37 tons of their low production of table olives are marketed to other countries.
The United Kingdom has 1 plot of olive groves, which have an average size of 6 hectares. 1.667 tons of oil are produced per hectare.
It has 1 olive mill, 1 refiner and 1 bottling plant. The turnover of the olive oil sector in this country has a low level, which translates into around 8 thousand real working days.
Of the total animal and vegetable fats consumed in the United Kingdom, olive oil consumption accounts for 4.5%, or 56,500 tons of olive oil.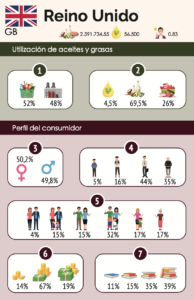 As for the consumer profile, it is consumed by women more than men, at 50.2% and 49.8% respectively. With respect to age, the older the population is, the higher the percentage of olive oil consumers, with 44% of those between 50 and 65 years of age and 35% of those over 65 years of age.
According to family structure, consumption is higher in middle-aged families with children (32%), followed by single or widowed people and single-parent families with children (17%). Those with a medium-low income level consume more olive oil than those with a low income. The consumption of olive oil among people with a medium income is 67% and 14% among those with a low income.
With respect to the percentage of olive oil consumption according to the level of academic education, it is significantly noted that those people who have higher education (university), 39%, consume more olive oil than those who have practically no education at all (11%).
According to the type of olive oil, 44% consume extra virgin olive oil, followed by virgin olive oil (43%). In terms of packaging, consumption in PET containers predominates (85%), with very little consumption in other containers. In the United Kingdom, the use of olive oil is largely for crude oil (70%) and to a lesser extent for cooking (24%).
In terms of the establishment where the oil is purchased, supermarkets predominate (45%), followed by hypermarkets (25%).
In addition, most people who consume olive oil do so within their own homes (98%), the remaining 2% outside the home. Outside the home, the establishments where this consumption predominates are bars and restaurants, and hotels, with an equal 30%.