The Pope has an olive mill in the locality known as "Castel Gandolfo" or "Ville Pontificie" that is more than 50 ha, located some 24 km from Rome (the grounds belonging to the Vatican, not to Italy). More than 1.000 olive trees of the varieties Frantoio, Pendolino, Rosciola and Vernina are cultivated here. Most of these olive trees date to the 13th century; Here we find the first references to olive oil production in the archives of the year 1260.
Among these olive trees there are two that are very special. One being a gift from the city of Taggia; And another coming from the garden of Gethsemane, which was a gift from King Hussein of Jordan to Pope Paul IV.
The Pontifical Villas have their own mill, with an antique granite stone mill. The ecological cultivation, as well as its harvest and pressing, is carried out by 7 workers under the most strenuous care, respecting both the plants and the products obtained.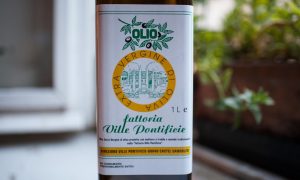 This "family", which at their table the Pope himself sits, obtains an extra virgin olive oil of the highest quality, which is destined for the consumption of the Vatican and the surplus is sent to "the Annona", the supermarket that the city-state has (the name comes from the Roman goddess that guaranteed the supply of grain to the city of Rome). The price is around €9 per litre, very reasonable considering the quality of the product and having its origin "blessed" by the Pope himself.
You can open the link to this story here