Algeria is a country located in North Africa. Olive growing in this country is centered in the mountainous areas of Cabilla and Aures, located in the central and northern part of the country, where 86% of the total is produced. More than 43% of the olive trees are over 50 years old. Currently, the olive tree in Algeria represents the most important tree crop, with 38.7% of the surface area being dedicated to this type of agriculture.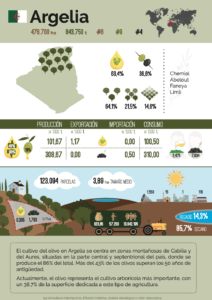 It ranks eighth in terms of cultivated area, representing 478,700 ha of olive groves. It is also the ninth largest producer of olive oil and the fourth largest producer of table olives.
Its crop production is divided between traditional, intensive and super-intensive olive groves, representing 64.1%, 21.5% and 14.6% respectively. In addition, the largest percentage of this crop is rainfed (85.7%).
It is used for the production of olive oil with a percentage of 63.4% of olive oil and 36.6% for the production of table olives. Of the olive oil produced, 40% is of high quality oil, such as virgin or extra virgin oil, and the remaining 60% is used to produce oil of a lower quality, such as lampante olive oil.
It produces 101,670 tons of olive oil and 308,670 million table olives. It exports 1,170 tons of olive oil and imports 500 tons of table olives.
The main varieties of olives grown in this area are: Chemial, Abelout, Faneya and Limli.
It has 123,094 olive plots, each of which has an average size of 3.89 ha. Each of these hectares produces 0.335 tons of olive oil and 1.763 table olives.
The country has 1,550 olive mills, 15 olive oil mills, one refiner and 110 oil presses.
In terms of consumption, Algeria consumes 2,475 liters of olive oil per capita per year and 7,634 kilograms of table olives per capita per year.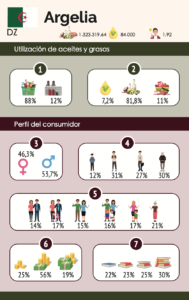 Of the total amount of oil, 7.2% is consumed in Algeria. It is consumed by more men than women, as they account for 53.7% and women 46.3% respectively.
In regards to percentage of olive oil consumption according to age range, it can be observed that people between 34 and 49 years of age have a higher consumption proportion, standing at 31%, followed by people over 65 years of age, with a percentage of 30%.
According to family structure, the highest consumption occurs in single people or widows (21%), followed by young families with children and single-parent families with children (17%).
According to income level, those with a medium income level consume more olive oil (56%).
According to the level of education, a higher proportion of olive oil is consumed by people with a higher level of education (30%).
According to the categories of olive oil, in Algeria, extra virgin olive oil is consumed to a greater extent (54%), followed by virgin olive oil (28%).
Regarding the percentage of oil consumption according to the type of packaging, it can be observed that oils in glass packaging are the highest consumed (55%), followed by PET (25%). In addition, with respect to the consumption of oil according to its intended use, it can be seen that the highest percentage is used for seasoning salads.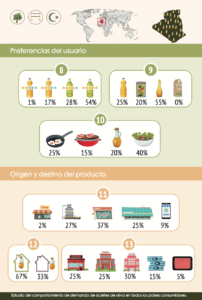 The establishment where olive oil is purchased in Algeria is firstly in supermarkets (37%), followed by oil mills (27%).
Sixty-seven percent of oil consumption takes place inside the home, the remaining 33% outside the home. Outside the home, the highest percentage of consumption is in hotels, restaurants, bars and restaurants.