Mykonos is a small island in the middle of the Aegean Sea in Greece. It might be small, but carries a big reputation; it is the most famous island of Greece worldwide, a brand name itself. It is the island of mythology, history, unique light and beauty. It is particularly famous for the cosmopolitan atmosphere (favorite holiday destination for billionaires,international movie stars and royalties), the exciting nightlife, the picturesque Cycladic architecture, the magnificent beaches and the neighboring sacred island of Delos. What is not so famous about is its rich culture, local gastronomy, customs and traditions. From folk dances to loom woven fabrics and from cheese & charcuterie making to traditional feasts. Feasts are a custom that dates back to ancient times, originating from the worship of Dionysus, the god of wine and fertility. Despite the modern lifestyle in Mykonos, local people devoutly preserve their folkways. Honoring the tradition of their land, Mykonians have made significant efforts lately to revive the cultivation of olive trees on their island. There are about 30.000 olive trees in Mykonos, mostly Koroneiki variety, cultivated just for family use. The quality of the olive oil produced is still not high because there isn't an olive oil mill on the island, so the olive fruit has to travel to other islands and wait for days to be processed. The good thing is that the plan for the construction of a municipality olive oil mill has been approved and together with intensive training and high-end technology hopefully Mykonos will have its own Extra Virgin Olive Oil in the years to come.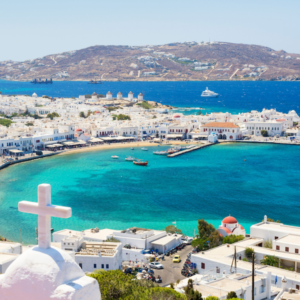 Anita Zachou, an Agricultural Engineer – Expert Olive Oil Taster – Holistic Wellness Coach and former Global Training Manager in Greece's most famous natural cosmetic brand, decided to leave her corporate career in Athens and move to Mykonos in 2018 following her fiancé and her need to live a more simple, healthy life away from the big city's stress. Coming from an olive oil-producing family from Kalamata, since she can remember herself she was playing around olive trees, participating in the harvest and enjoying her family's fresh olive oil every year. Her great passion for olive oil and gastronomy led her to seek deeper knowledge and become a certified Olive Oil Taster in 2012. Later on, she was granted a scholarship by the International Olive Council to attend the olive oil tasting course at the University of Jaén, from which she holds the title of Expert in Virgin Olive Oil Tasting.
Being always passionate about olive oil deep inside she knew that one day she would work with olive oil on a full-time basis. At the end of 2018, she founded Mykonos Olive Oil Tasting an educational & consulting company delivering seminars & workshops on Olive Oil Tasting, Olive Oil & Food Pairing, Mediterranean Diet, Holistic Health, Beauty & Wellness to visitors, consumers, kids and culinary professionals all over Greece and abroad.
Anita, a pioneer of oleotourism in Greece, founded Mykonos Olive Oil Tasting on an island that is not famous for its olive oil production, it does not have an olive oil mill or even a reputation for its gastronomic tourism, proving that oleotourism can take place everywhere if you combine passion, love, knowledge, expertise and a well designed olive oil tasting program. What she saw was that Mykonos lacks authentic experiences and that also has visitors that are interested in gastronomy and want to live experiences that "smell" Greece. The foreign visitor does not know if Mykonos produces olive oil, all he knows is that he is in Greece and since Greece is the third producing country in the world he can find some good olive oil to taste.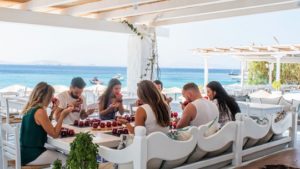 Oleotourism in Greece is almost an unknown activity – business opportunity with serious & well-organized oleotourism attempts to be counted on the fingers of one hand. We have associated oleotourism with a visit to an olive grove and/or to an olive oil mill and then a tasting of the farm's olive oil. This is great and it is one form of oleotourism, the other form is to teach visitors how olive oil is made (without a visit to a mill, after all in the summertime all mills are closed), introduce them to sensory analysis and quality characteristics, allowing them to taste different varietals of olive oil from all over the country (in a private farm, guests taste only the olive oil of this particular farm), teach them how to use olive oil in cooking & how to pair olive oil with food especially with Mediterranean – local dishes and explain to them everything they need to know on how to preserve-store olive oil. According to the guest's comments & reviews, this experience is far more powerful, educating and life-changing than any visit to a grove or mill because they have the opportunity to explore Greece's different varietals of olive oil and are being trained by an expert that will answer questions on all topics concerning olive oil (farm owners normally do not have this level of expertise).
The majority of Anita's guests are Americans (80%), a fact that proves their big interest in tasting olive oil and their eagerness to learn more about Mediterranean gastronomy in general, leaving the rest 20% to Europeans, Australians, Latin Americans and Asians. The visitors find the activity mostly online (website -TripAdvisor – Airbnb, etc) or hear about it from hotel front office managers, local travel agencies, concierges, etc. The summer of 2020 indeed had a significant decrease in mass tourism but the arrivals of high-income visitors remained stable. Due to Covid-19 safety precautions, most of these visitors wanted to experience an olive oil tasting alone or from the comfort and safety of their own place. Anita had to completely adjust her activity to this and to offer tastings to individuals and smaller groups, as well as many private tastings in villas, private yachts and even beaches!
Every year Anita tastes more than 50 different olive oil brands and varietals from around Greece to choose the best for her tasting workshops. The quality of Greek olive oil has been increased a lot over the last decade with many of them winning awards in prestigious international olive oil competitions. During her olive oil tasting workshops, guests can learn everything about Greek olive oil. The history, medicinal uses in ancient times, production procedure, they participate on a virtual tour around Greece by tasting awarded olive oil varietals from every corner of the country (Koroneiki, Tsounati, Makris, Megaritiki, Amfissis, Kolovi, Manaki, etc.) learn everything about them and experiencing their different aromas and flavors. Guests taste also defective olive oils to learn to identify an extra virgin olive oil from olive oil with serious defects. They learn everything about the health benefits of extra virgin olive oil and the Mediterranean Diet and they indulge in an olive oil and food pairing activity aiming to understand how the "inappropriate" olive oil varietal or intensity can degrade a dish or simply exalt it.
After this workshop participants have learned to recognize different types & qualities of olive oil and this will change their daily life dramatically. Once you taste an amazing extra virgin olive oil you can't go back! They will also be able to recognize the aromas of olive oil, evaluate it according to its fruity, bitter, and spicy and know which olive oil pairs better with fish and which exalts the flavor of the meat. This workshop also teaches how to make the right buying choices and how to store olive oil so that its flavor remains intact over time.
Olive Oil is not a simple product, is a product that stimulates senses and emotions like no other.
People leave the tasting table with a big smile, deep appreciation and gratitude for Nature's most valuable gift and a great fascination for Greek olive oil.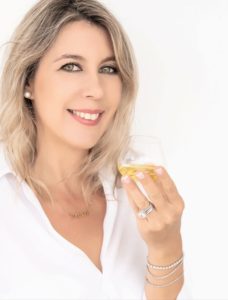 In wintertime, Anita offers seminars & webinars, consults producers & olive oil mills on how to create high-end EVOO's, develops olive oil blends, is a judge in international olive oil competitions, oleotourism consultant, gastronomic educator of culinary professionals, event organizer, new brand development & content creation consultant, writer & trainer.
Her mission is to share her knowledge & experience on the value, quality, wholesomeness, right selection, multiple uses and health benefits of Greek Extra Virgin Olive Oil and Mediterranean Diet, creating their ambassadors in various parts of the world and at the same time to increasing awareness of consuming great quality Extra Virgin Olive Oil.
She believes that learning how to taste, select and pair olive oil with food is one of the most valuable pieces of knowledge that one can offer himself not only because olive oil is the most important daily cooking staple & delicious condiment but also a unique and precious health, beauty and wellness elixir.
Her dream is to help make a change in the olive oil industry. If we want to change the future of olive oil globally, she says, we must focus on education. Education of the producer, the mill master, the merchant, the seller in the store, the Chef and the restaurant owner, the adult consumer but also the children because children are the adult consumers of the future.
She quotes: "Consuming olive oil of good quality is not a luxury, is your everyday right to health, beauty & wellness, it's an act of self-care…"