Peru is a country that produces olive oil as well as consumes it.  Production is concentrated in the south of the country, mostly in the regions of Tacna and Arequipa, and also to a lesser extent in Ica, Lima, La Libertad and Moquegua. In Peru the oldest olive trees planted in South America (16th century) still exist today. Some of them are maintained in an artisanal way by descendants of native settlers, producing oils from centenary olive trees of excellent quality. Also, most of the table olives that were derived from those old olive trees have been dubbed the «Criolla» variety.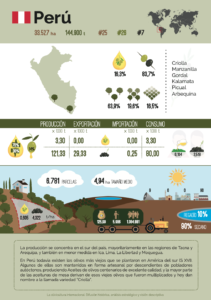 The country has 33,527 hectares of olive groves and ranks 25th in cultivated area and 26th in olive oil production. However, it is worth mentioning that it is ranked seventh in table olive production.
Of all its crops, traditional olive groves are the most important, accounting for 63.9%, followed by intensive cultivation 19.6% and finally the super-intensive 16.5%. Ninety percent of the crop corresponds to rainfed farming, and the remaining 10% to irrigation.
The percentage of olive grove production for processing is 16.3% olive oil and 83.7% for table olives. It produces 3,300 tons of oil per year, all of which is consumed by the country's domestic population. Of this oil, 70% corresponds to high quality oil, such as virgin or extra virgin olive oil, and the remaining 30% corresponds to oil of a lower quality.
The most important olive varieties present in the country are: Criolla, Manzanilla, Gordal, Kalamata, Picual and Arbequina.
With respect to table olives, 121,339 tons are produced, of which 29,330 tons are exported and 80,000 tons are consumed annually by the country's domestic population.
The country has a total of 6,781 olive grove plots, with an average size of 4.94 hectares. Productivity per hectare is 0.605 tons of olive oil and 4.322 tons of table olives.
As for the turnover generated by the olive sector, it is 125.99 million euros, and it also has a total of 1,364,881 annual working days in the olive sector and related industries. In addition, it has 9 olive oil mills and 90 oil presses.
Of the total of animal and vegetable fats consumed, 0.6% corresponds to olive oil in this country. The inhabitants of this country consume an average of 0.10 liters per person per year.
In terms of consumer profile, women consume 50.3% and men 49.7%. The percentage of consumption is higher in people between 50 and 65 years of age (37%), followed by people over 65 years of age (26%).
The percentage of oil consumption according to family structure, consumption predominates in young families with children (21%), as well as in middle-aged families with children (21%), followed by single people or widows (20%).
According to the level of income, a higher percentage of olive oil is consumed by people with a medium-high income. In addition, according to the level of academic education, those with university studies consume a higher proportion of olive oil, 44%.
Of all the olive oils, a fairly significant percentage is consumed of extra virgin olive oil (52%), followed by olive oil (35%). The packaging in which oil consumption is highest is PET (50%), followed by glass (48%).
According to the use for which the oil is intended, the most relevant use is raw consumption, as condiments in salads (40%), followed by use in cooking (35%). The lowest consumption is for frying (10%).
The establishment where olive oil is most frequently purchased is the supermarket (40%), followed by hypermarkets (25%). The 9% of the users who consume olive oil buy it through the internet.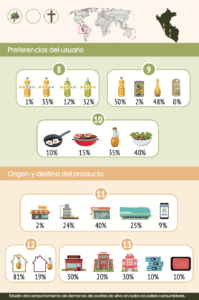 81% consume the oil at home, the remaining 19% is consumed outside the home. Outside the home, the most significant establishment is bars and restaurants, as well as hotels.