Turkey has banned the export of olive oil, among other products, to guarantee domestic consumption of these goods, due to its high dependence on food from Ukraine and Russia, which benefits Spain as the world's largest producer of olive oil.
Turkey is both an olive oil producing and consuming country. Turkey's commitment and interest in this sector is manifested in the research, development (R&D) and education component of the table olive and olive oil sector, which is a very important part of research and education in Turkey's food and agricultural sector.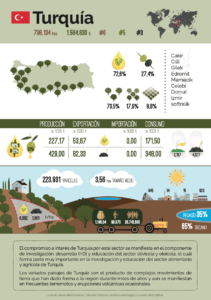 It currently has 798,134 hectares of olive groves. It ranks sixth in the world in terms of cultivated area, fifth in olive oil production and third in table olive production. Of the total production, 72.6% corresponds to olive oil and 27.4% to table olives.
With respect to cultivation, traditional cultivation predominates very significantly (73.5%), followed by intensive cultivation (17.9%), and finally, super-intensive cultivation with 8.6%. When accounting for the crop total, 65% is rainfed and the remaining 35% is irrigated.
It produces 227,170 tons of olive oil, of which 53,670 tons are marketed to other countries. Of the total oil produced, 68% belongs to a higher quality oil (virgin or extra virgin), the remaining 32% belongs to a lower quality oil such as lampante olive oil. In addition, it produces 429,000 tons of table olives, of which 82,330 tons are marketed to other countries.
Turkey has 223,931 olive grove plots, which have an average size of 3.56 hectares. Per hectare, 0.392 tons of oil is obtained per hectare, as well as 1.961 tons of table olives per hectare.
There are 945 mills, 14 olive oil mills, 15 refineries and 823 table olive plants. The turnover of the olive oil sector in this country is 1,145.94 million euros, which translates into more than 20 million real working days.
Of the total animal and vegetable fats consumed in Turkey, olive oil consumption accounts for 8.3%, or 190,000 tons of olive oil.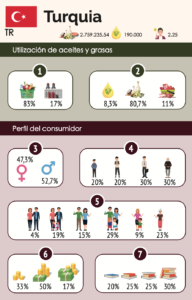 As for the consumer profile, it is consumed by men more than women, as they represent 52.7%, and women 47.3%. With respect to age, the older the population is, the higher the percentage of olive oil consumers is, with people between 50 and 65 years of age and those over 65 years of age predominating in the same way.
In terms of family structure, consumption is higher in middle-aged families with children (29%), followed by single or widowed people (23%). Those with a medium-low income level consume more olive oil than those with a low income. The consumption of olive oil among people with a medium income is 50% and 33% among those with a low income.
With respect to the percentage of olive oil consumption according to the level of academic education, it is significantly noticeable that those people who have higher education (university) consume more olive oil than those who have practically no education at all.
According to the type of olive oil, more than 50% consume extra virgin olive oil, followed by virgin olive oil at 28%. In terms of packaging, they consume more olive oil in glass packaging (50%), followed by PET packaging (30%). The use of olive oil in Turkey is equal in raw oil (30%), in cooking (30%) and for grilling (30%), where it is less used for frying food (10%).
In terms of the establishment where the oil is purchased, it is predominantly purchased in hypermarkets (35%), followed by supermarkets (25%).
In addition, 63% of the people who consume olive oil do so within their own homes, the remaining 37% outside the home. Outside the home, the establishments where this consumption predominates are bars and restaurants (40%), hotels (20%) and collectivities (20%).