The endless mazes of canals and waterways are still filled with colorful trajineras (typical boats). These man-made island farms are a past reclamation project of the lands of the 14th century Aztec Empire that continue to feed the people of Mexico. When the Aztecs began to build they realized that there was not enough land to expand, the valley of Mexico was covered by five large lakes. In the center of the city they built bridges and footbridges to connect the land, and in the more remote areas they used chinampas to create floating gardens that could be used for agriculture, animal husbandry, hunting and foraging. The ingenious technique of cultivating in water allowed the Aztecs to sustain their growing empire.
The result was a floating city, floating farms full of nature and agile canoes ready to transport people.
Today, hundreds of tourists fill the canals of Xochimilco to enjoy a unique experience where vendors offer grilled corn, micheladas, sombreros, agriculture, typical products, music and art.
Mexico is located in North America. It has an area of 1,964,375 km2 with a population density of 66 inhabitants per km2. The variety of flora and fauna that Mexico presents is originated by its different ecosystems, such as; humid and dry jungles, lakes, deserts, and forests. It has aquatic and terrestrial plant species, and it is worth mentioning the numerous cactus landscapes that characterize it. The surprising variety of fauna in Mexico presents us with endemic species, such as the vaquita porpoise. One of the most surprising animals is the monarch butterfly.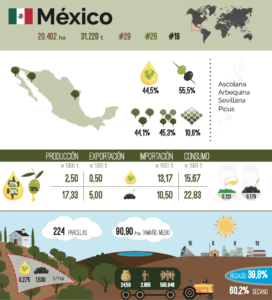 Regarding the world of olive oil, Mexico currently has 20,402 hectares of olive groves. It ranks twenty-ninth in the world in terms of cultivated area, twenty-eighth in olive oil production and nineteenth in table olive production.
 Of the total production, 44.5% corresponds to olive oil and 55.5% to table olives. With respect to cultivation, intensive cultivation predominates very significantly (45.3%), followed by traditional cultivation (44.1%), and lastly, super-intensive cultivation (10.6%). Of the total cultivation, 60.2% is rainfed and the remaining 39.8% is irrigated.
It produces 2,500 tons of olive oil, of which 500 tons are marketed to other countries. Of the total oil produced, 70% belongs to a higher quality oil (virgin or extra virgin), the remaining 30% belongs to a lower quality oil such as lampante olive oil. In addition, it produces 17,330 tons of table olives, of which 5,000 tons are marketed to other countries.
Mexico has 224 olive grove plots, which have an average size of 90.90 hectares. Per hectare, 0.275 tons of oil is obtained per hectare, as well as 1.530 tons of table olives per hectare.
There are 15 olive mills and 13 oil presses. The turnover of the olive oil sector in this country is 24.59 million euros, which translates into 593,949 actual working days.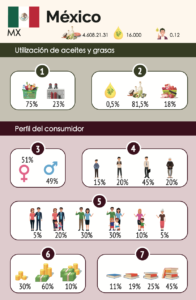 Of the total animal and vegetable fats consumed in Mexico, olive oil consumption accounts for 0.5%, or 16,000 tons of olive oil.
As for the consumer profile, it is consumed by women more than men, with 51% and 49%, respectively. With respect to age, the older the population is, the higher the percentage of olive oil consumers, predominantly people between 50 and 65 years of age with 45%.
According to the family structure, its consumption is higher and equal in middle-aged families with children and without children (30%), followed by young families with children (20%). Those with a medium-low income level consume more olive oil than those with a low income, and to a lesser extent those with a high income. The consumption of olive oil among people with a medium income is 60%, 30% among those with a low income and 10% among those with a high income.
With respect to the percentage of olive oil consumption according to the level of academic education, it is significantly noticeable that those people who have higher education (university), consume olive oil in a higher proportion than those who have practically no education at all.
According to the type of olive oil, more than 45% consume olive oil, followed by extra virgin olive oil at 41%. In terms of packaging, in Mexico, more olive oil is consumed in PET containers (77%), followed by glass containers (18%). The use of olive oil in Mexico is more for raw oil (40%), followed by cooking (35%), grilling (15%), and the lowest use is for frying food (10%).
In terms of the establishment where the oil is purchased, supermarkets predominate (40%), followed by hypermarkets and others such as oil mills, bottling plants, bars, and other points of sale (25%).
In addition, 76% of the people who consume olive oil in Mexico do so within their own homes, the remaining 24% outside the home. Outside the home, the establishments where this consumption predominates are hotels (40%) and restaurants (30%).