Pamela Gonzalez is an Agricultural Engineer with a degree in Agribusiness, with a Diploma in Olive Oil Production from the University of Chile and a Diploma in Corporate Sustainability and Innovation from the Pontifical Catholic University of Chile. For the last nine years, she has been the project manager of the Olive Oil Producers Association, Chileoliva, in charge of initiatives in technology transfer in olive growing, research, precision agriculture and sustainability.
What is olive growing like in Chile?
Olive growing in Chile began more than 15 years ago, with the objective of obtaining quality olive oils with technology and efficiency in production. Chile has ideal agro-climatic conditions for the cultivation, it has a Mediterranean climate in a great part of the territory, which allows the cultivation of olive trees from the north to the center-south of the country. Also, it has natural barriers that protect trees from pests like the olive fly present in other areas of the world.
The surface area in the last 10 years has increased from 6,000 to 25,000 hectares planted at present, with mostly super-intensive systems where varieties such as Arbequina and Arbosana have been used, as well as plantations with intensive systems with some Italian varieties. The agronomic and industrial management has been focused on obtaining yield and quality, with mechanized harvests and oil mills installed in the fields of most of the olive growers, where the installed technology allows to process the harvested olives in less than 12 hours , obtaining fresh oils and against the season of the northern hemisphere.
Olive growers have travelled a path of constant learning in terms of the agronomic management of the super-intensive olive tree, where the use of technologies to work with precision agriculture and sustainability are the main challenges of today, which will allow us to be able to adapt to climate change and be profitable over time.
For the year 2019, 18,500 tons of oil were obtained, of which 11,474 were exported to markets such as the United States and Brazil, among others. This added an FOB value of USD 52,119,655. According to the statistics of the International Olive Oil Council, Chile occupies the tenth place among olive oil exporting countries and thanks to the work developed, it has managed to position itself in the world as a relevant actor in quality extra virgin olive oils.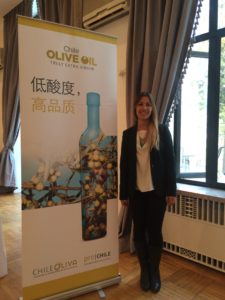 In the commercial and promotional area, the challenges are to strengthen the consumption of the national market, to continue positioning Chile in countries like Brazil and incipiently China and Japan, as well as in the European market.
In order to achieve this growth, olive growers have worked in an associative manner through Chileoliva, developing technical projects for training, technology transfer, research and export promotion.