Two sunken vessels found next to the Spanish galleon San José in Cartagena de Indias, have made us dream of new treasures once again. There is a colonial ship and a schooner, believed to date back some 200 years. Intact crockery from the period has been discovered, as well as details of the cannons manufactured in Seville and Cadiz around 1655. There are also macuquinas, the hand minted coinage of Spanish America, amphoras of aove, and gold bullion and crew swords.
The San José was sunk by a fleet of English privateers on June 8, 1708 when it was heading to Cartagena de Indias, carrying gold, silver, emeralds and other riches from the Spanish colonies in South America to deliver them to King Philip V. According to chronicles of the time, with about 11 million eight escudos coins in gold and silver that it had collected at the fair of Portobelo, Panama. The shipwreck occurred during the Battle of Baru by the flagship of the British fleet, the Expedition.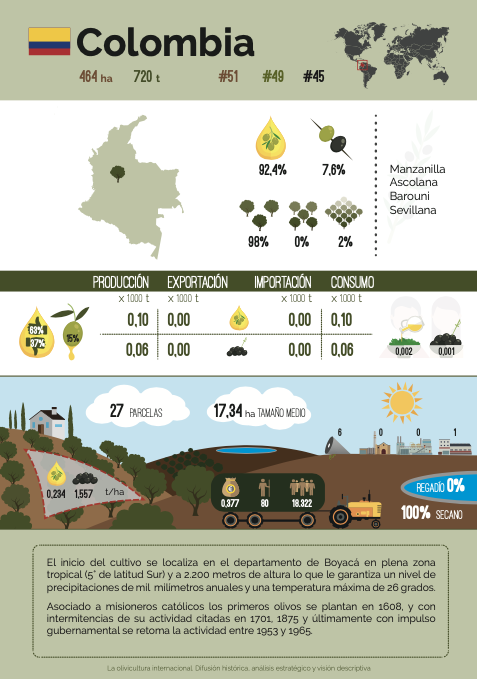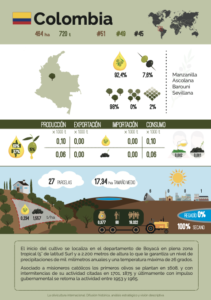 Located in South America, Colombia has a population of 51,049,000 inhabitants, consisting of 196 countries. Its capital is Bogota and its currency is Colombian Pesos.  The olive oil market in Colombia is still expanding. Olive oil is not produced, nor was there a great tradition of its consumption, due to it not being a product within the reach of all consumers.
About 0.01 kg of olive oil is consumed per person. The total consumption of olive oil is 0.01% with respect to the other types of oils present in the Colombian market.
As for the consumption of olive oil according to sex, 51.4% is consumed by women and the remaining 48.6% by men. If we distinguish the consumption of olive oil according to age, the group between 50 and 65 years of age predominates with 40%. As for the family structure, middle-aged families with children predominate with a consumption of 24%, followed by young families with children with 19%.
With respect to purchasing power, those Colombians who have a medium-low income level have a higher consumption of olive oil than those who have a high income level, with 56% of those who have a medium income level.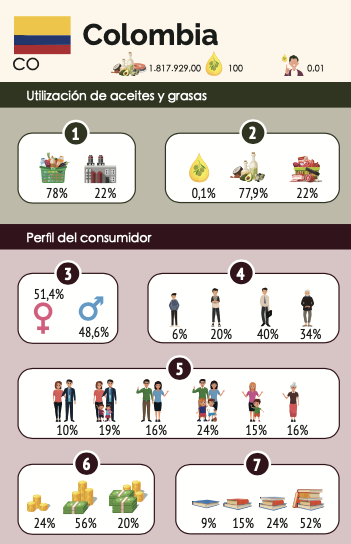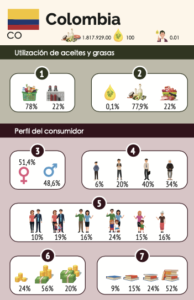 In terms of educational level, individuals with a higher level of education (university) have a higher consumption of olive oil (52%). However, those who do not have educational backgrounds do not amount to more than 9%. In general, olive oil continues to be unknown to the lower-middle consumer, although its qualities are appreciated by more educated consumers.
Of the different varieties of olive oil, the most predominant is olive oil with 37%, followed by extra virgin olive oil with 34%. Olive pomace oil is not consumed at all with only 1%.
According to the type of container, consumption is higher in PET containers (70%) and glass containers (28%). The main use of olive oil is as a raw product, i.e. for seasoning (53%), although the use of olive oil for cooking also stands out to a lesser extent (23%).
The main establishments where the inhabitants of Colombia buy olive oil are supermarkets (40%), followed by hypermarkets (25%), other points of sale (24%), the Internet (9%) and traditional stores (2%).
The majority of users in this country consume olive oil in their own homes (97%), only 3% do so outside their domestic environment. Outside the home, the establishments where olive oil is most consumed are bars and restaurants (25%), followed by schools (25%), the canning industry (20%) and the food processing industry and hotels (15%).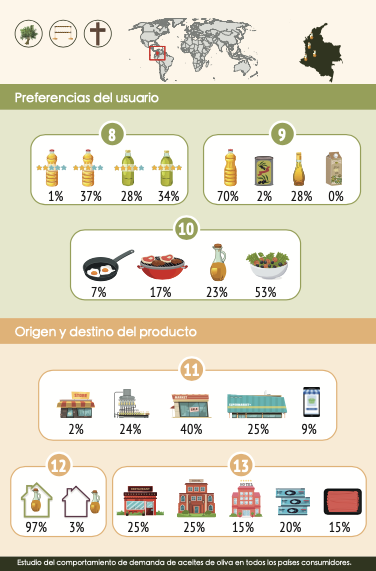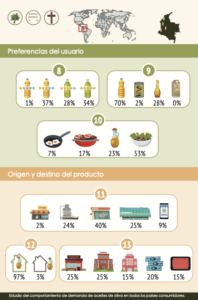 Colombia experienced a significant growth in foreign trade due to the economic opening and the implementation of new trade policies. For Spanish olive oil producers, Colombia is not one of their main destinations; it is not even a product that is demanded by the Colombian population base due to the high price and the existence of other oils. Despite this, there has been a steady increase in exports of Spanish olive oil to Colombia and, little by little, it is beginning to be demanded by a greater number of Colombians due to the properties and benefits of the product itself.